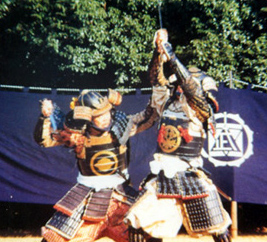 One of the most interesting stories among those told about the spearmen of the North includes an anecdote about a man, skillful with the spear, whose name was Shiga Yosabei. This man had not yet established a formal dojo of his own from which to teach, since it is believed he was still engaged in itinerant ascetic training when this particular incident occurred. But his reputation was already good enough for a young member of the prominent Yoba family to call upon him to receive instruction. Yosabei reluctantly agreed to go to the Yoba household and presented his services to the head of the family, who welcomed him. But before he began instructing the young man, he asked, "Is your mind a clear mind? If it is not, I would be wasting your time and mine." Finally, the young man ignored what he felt was insolence and said yes. Only then did Yosabei begin to teach him. But he taught the young man only a few techniques, or so the young man thought, and Yosabei became ready to leave the area. "Is that all?", protested the dissatisfied young man. To that Yosabei answered, ignoring the young man's arrogance, "If your mind was indeed clear, that is all you need for now. Train hard and that knowledge that I have given you will spring forth deeper understanding and high skill." Then Yosabei left to pursue his own training, allegedly traveling to Nara and other areas. He would not come back for a relatively long time. Years later, after his return, he was once again called to the Yoba family. His former student paid his respects and humbly asked permission to demonstrate his progress. Yosabei agreed and was pleasantly impressed with the young man's skills, which he praised. The young man bowed deeply, thanked his teacher, and offered him a generous gift. But Yosabei refused, saying, "I cannot call myself your teacher. What you have shown me today has come from your clear mind. When I taught you, I knew less than I know now. What you know now is more than what I knew then. That knowledge has come from your clear mind. Not from me. This particular anecdote of Yosabei is remembered and retold because it speaks volumes about a somewhat unusual man. But the true value of the story lies in the fact that it illustrates a poignant element in Budo that cannot be emphasized enough: "Waza ga sensei", "A technique is a teacher". We often view each technique as an isolated item. We tend to believe that since it responds to a name or an ordinal denomination, once mastered, or at least well remembered, its value is nominal. It becomes just one more technique in the budoka's repertoire. However, there is nothing further from the truth. A technique is in reality a teaching tool, and its value goes far beyond the technique itself. We are aware that a certain school of thought maintains that the teachers of old did not think of a ryu's format in didactic terms However, it has much difficulty explaining how teachers as far back as the 1400's organized their ryus' techniques in such a way as to provide character growth in the disciples. Others interspersed thresholds of greater difficulty throughout the curriculum to test loyalty, character and temper the spirit of the students; while others conceived teaching sequences in which a technique, or a set of techniques, would feed from the previous one, and so forth, by subtle elements, and left writings as to their motives. This testifies to the fact that the teachers of old were hardly the "teeth on the bone" type of unimaginative blokes that some researchers seems to have some up with. The great majority of ryus were not put together haphazardly. It would be easier to say that "there was a method to their madness", as one writer puts it, but while we have found no traces of "madness" anywhere, we did find much attention to method. For example, when we read about Shiota Akihiro spending more than seven years brushing the scrolls of his Yawara techniques, arranging them to be compatible with the rules of etiquette, and adding ethical and spiritual advice at the end of each manuscript, we cannot visualize any kind of aimless listing of techniques. And he is not, by any means, the exception. Not only does each technique, when properly received, convey an amount of knowledge that grows with time, producing realizations and understanding which bring us further and further into the essence of the ryu, but every aspect surrounding the teaching of the technique brings us closer to that understanding. Like the etiquette that surrounds the teaching, it develops not just strength of character, but also greater awareness for actual combat situations. We need not to explain this process since it is well known to all teachers, but we do well in reminding ourselves of its value. Even the recommendation so often repeated in old manuscripts about never giving reasons for a certain type of training to a student (i.e. never answer when a student asks, "Why?"), is highly misunderstood today. The "just do it" method was not a gratuitous use of authority, but a highly effective rule that allowed the technique to follow its proper course without the student's useless judgment getting in the way. Once the student submitted himself to the technique, then and only then, could the technique truly become knowledge and bring forth true understanding.
An individual with a "technique collector" mentality may be greedy for technique and enjoy amassing great numbers of them, but this is stale knowledge since the technique becomes an end in itself, and often a source of vanity, and this vanity is precisely what suffocates that knowledge by silencing the technique. The individual's focus on "what's next" makes him receptive only to superficial perception. A technique received in such a way begins with the mechanics and ends with the mechanics. Its true purpose is defeated. It has been said, and written, that it takes a minimum of three years of daily training for a student to even begin to comprehend the thirty basic techniques of Ikkajo Some were reluctant to accept that proven fact, even though attention to length of training is part of the Budo traditions practically since its origins, and the teachers were not sparse in recommending it: "Learning to hold a sword correctly takes no less than three years, and until that is learned nothing else must be taught.", said Ono Yusuke Shigeyasu. "The swordsman must know how to stand up properly from a seated position, without exposing the back of the neck. It often takes more than two winters to master this posture", said Goto Tamauemon Tadahisa. "Stillness (non-posture) is the first of all skills. It takes a long time to be learned, because it encompasses all strategy, but lacking it means that a man can be drawn out and cut down with ease. No technique has any value until a man understands stillness. Several years should be dedicated solely to this practice." said Ichikawa Shirozaemon Yasuhiro. "Anyone wishing to master the sword must first learn how to sit in complete repose with his eyes fixed on one point, but seeing everything. This process may take from two years to a lifetime, but until it is understood, the essence of the sword would be unattainable.", said Kurokouchi Kanekata Sakon. We all know the importance of shikko, or knee walking, for the development of technique. Some students bring up the point of why practice shikko outside of class time, since - in their opinion - they already know it quite well. However, shikko is hardly an outdated ceremonial practice. It is, among other things, a valuable method to teach an invaluable skill. The samurai way of walking was quite different from ours. They moved without twisting their bodies, with the arm and the leg on the same side of the body advancing together. This permitted a smooth transition from upright walking to shikko, and vice versa. It also gave them a posture that was already set to blend with an attack quite proficiently, by the application of the hitoemi principle of strategy, which involves body alignment. It also enabled them to open and close the body, depending on their choice of response to attack, without shifting their centers but controlling their opponent's center, which is the main fundament of tall technique. All that and much more springs from shikko training. A minimum of time dedicated to it would be grossly insufficient, but neither does the teacher need to go through a lengthy explanation giving reasons for the long shikko drills. It is enough that he knows that, without them, the three years of Ikkajo would have pitiful results, and recommends the practice of shikko. Should a student say to himself, "enough shikko", and go on to his favorite technique, it would be akin to a novice helicopter pilot who, without having learned to control cyclic and collective, insists on practicing maximum efficiency takeoffs. Those who listen will reach the essence of the knowledge, while those who do not will miss it. It is as simple as that.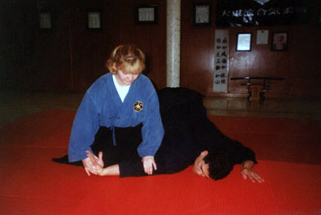 A technique is not an acquisition that is given so the student can master it. It is more like a teacher to whom the student submits his efforts so he can learn. A technique we approach with pride will give us only its outward look. A technique we receive with modesty and an open mind will reveal to us its inner secrets. An old saying gives us a humbling insight into this topic: "Seito ga waza o erabu no dewa naku waza ga seito or erabu", which could be translated as; "It is not the student who chooses the technique, but the technique that chooses the student." Each teaching, each technique, is a seed seeking fertile ground to grow. That ground is the student's spirit, and its quality depends on his character. Respect, humility, and a clear mind would develop wonderful fruits. Any less, and it could hardly be called Budo.